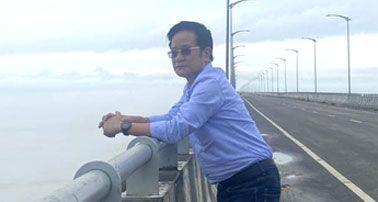 [ Gijjum Tali ]
"I cannot rest from travel, I will drink life to lees; I am part of all that I have met, yet all experience is an arch wherethro gleams that untravelled world, whose margin world, whose margin fades for ever and ever when I move." –
Alfred Lord Tennyson.
Travelling can be a part of education, experiences, human desire to visit places and people around, but a dire necessity to venture out to Namsai amid torrential downpour and monsoon at its fury, leaving trails of devastations everywhere in the capital of the state, from where I started my travelling with fruits and edible dry items to be used where I got stuck up. The travel gave me a scope to pass through the neighbouring state of Assam, touching seven districts – Papum Pare, Lakhimpur, Dhemaji, Dibrugarh, Tinsukia, Namsai and Roing.
The news of rivers and rivulets in their full fury washing away many riverside structures with a few people, flooding rivers and rivulets in its full spate, landslides marooning some people, erosion of roads, damage of bridges, accidents here and there, and waterlogging taking unprecedented toll of human lives in our state was a rare sight and exposed a keen tussle between nature and development.
Big cracks and holes on road surfaces reveal the fact that beneath the beautiful surface above, some hollow combustible materials use gaining ground and monsoon came as matchstick to light the fire to trigger big cracks on the road, culverts, drains and foundations of bridges. The people dwell beneath the vulnerable and erosion prone zones, long lines of vehicles beneath the eroding hills undermining the cautionary awareness through public address system, the DC himself landing on spot to speak in the ears of people to come out of parked vehicles at least in the dangerous zone. The travel also gave a deep insight to know the restless mentality and psyche of the people even in such natural disasters that were taking unprecedented devastations everywhere.
As I drove amid torrential downpour towards neighboring Assam, the road condition was good but waterlogging on both sides of the national highway was alarming in the low-lying areas. Some people were seen evacuating their materials through country made boats from half-submerged huts; many were seen at their playful best to catch fishes, perhaps from the submerged fish ponds; herds of cattle were seen self-evacuated from the low-lying areas on the road, and sadly many cows were found hit to death on roads here and there; vehicle accidents due to downpour and some speeding vehicles running in breakneck speed, throwing water on pedestrians and into the window panes of other drivers that were driving cautiously to negotiate the torrential rain on the day.
The eastern part of Arunachal, which is connected with Assam with the longest bridge of India, Dr Bhupen Hazarika Setu, spanning 9.15 kms, and rail-cum-road Bogibeel bridge, spanning 4.940 kms, opens up a fascinating drive. These two bridges hailed as major and pet projects of the government of India will not only link two northeastern states of Assam for hundreds of years to come but it's a rare destination and a refreshing spot after a tiresome journey. Never did we imagine that such bridges would come up so soon to give us a fascinating drive when it was taken up a decade back.
As I too rested there to have a glance and panoramic view around the Bhramaputra river, heaps of memories of my 50 years of association with the river and two tiny worlds that flourished on its left and right banks suddenly ran through my mind. I could not forget the hue and cry, din and bustle, early drive to catch the first ferry, hectic activities from dawn to dusk, mounting pressure and tension to drive vehicle up and down the boat with two flat logs as road to boat, sitting tight rubbing shoulders with co-passengers, sometimes standing without getting seats for hours together. The problems were all the more in winter as the river used to dry up considerably and passengers had to walk on foot and vehicles had to be driven in the sands in the middle of the Brahmaputra to avail transhipments that took place inside the river.
The sight of pushing and pulling 20 passengers inside the jeep, much beyond the laden capacity, like commodities is vivid in my mind and travelling from the ferry ghat through undulating road up to Dibrugarh was always a painful and tiring journey to be recollected now. Though the two worlds on both banks of the mighty river had a natural extinct after the construction of Bogibeel bridge, all past memories linger in my mind and reflect in front of my eyes whenever I take a journey over it. The bittersweet memory always drifts me down to my memory lane as all my six transfers to Changlang, Daporijo, Tawang, Aalo, Lohit and again to Aalo in my prime service days were always associated with this river, besides my early connection with the river right from my school days in Aalo for eye check-up at Dibrugarh.
I had to return back midway from Tezu journey to Namsai due to huge cracks on the edge of the Tenga bridge connecting the place, though many crossed it, risking lives and properties. The murmuring zeal and notion among the people, "Chalo jesa teas paar kar lengge" did not persuade me to cross the bridge, taking risk as such nature among our people in many vulnerable locations here and there led to many a catastrophe. The rainy season month of July is still there to create such havoc in the days to come and this travelogue is just a voice of the heart, so that human being does not ruin nature by taking the space that belongs to natural ecosystem and individual and common developments at the cost of nature will expose more severe contests between development and nature in the years to come as man having that lust to enslave nature will always find himself a slave in the long run. (The writer is IPR Deputy Director, Naharlagun)