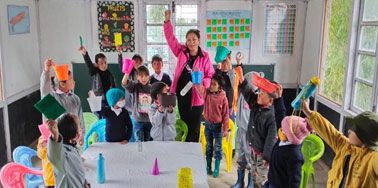 ITANAGAR, 1 Jul: Education Commissioner Padmini Singla on Friday reviewed the school readiness programme (SRP), which was launched in 1,578 primary schools of the state on 15 June, immediately after the reopening of the schools for the 2022-23 academic session.
The programme aims to identify the learning gaps of the students in a playful manner and bridge those gaps to improve their learning outcomes and make them ready for their respective classes. The six weeks' long programme will conclude on 30 July.
The SRP is being undertaken by the SCERT, in partnership with the NITI Aayog and its knowledge partner Reach to Teach Foundation.
The SRP, which began with training of head teachers and other system officials, will support one lakh primary grade students to engage meaningfully with their peers and teachers and take part in classroom learning processes.
Foundational literacy and numeracy (FLN) intervention is necessary for the comprehension of other subjects and later learning. The Covid pandemic has given rise to learning loss among the students, as they have stayed out of school for a considerable period, and has also diluted the intensity of the FLN.
The SRP makes teachers connect with the students through activity-based teaching-learning materials. The learning resources and activities packs under the programmes are being made available to the teachers. (DIPR)