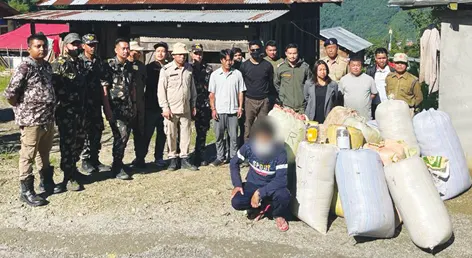 ITANAGAR, 3 Jul: The Capital police claimed to have busted an illegal drug supply chain with the arrest of the two main drug suppliers from Kalaktang in West Kameng district on 2 July.
Police said that it was ascertained from Tadar Chada and Tadar Kampung, who were earlier arrested with more than 700 kgs of cannabis (ganja) that the source was located at Kalaktang in West Kameng district. "Using the disclosure statements, electronic surveillance and human intelligence the information was confirmed," SP said.
The arrested persons have been identified as Tsering Rakpa of Boha village and Lobsang Darjee @Nima of Ankhaling village.
During search operation, the police have recovered 19 bags of ready to be sold suspected cannabis weighing 246.81 kg from a godown of Rakpa. The suspected cannabis was seized in the presence of Kalaktang ADC Anu Bamin and Kalaktang police station OC SI T. Taloj.
In this regard, a case has been registered at Kalaktang police station under section 20(b)(ii)(C) of the NDPS Act.
The accused were brought to capital on the same day and produced before the magistrate.
With this, the police have, so far, arrested six persons in connection with the NLG PS FIR no. 82/2022 US 20b (i)C/27a/29NDPS Act dated 24/6/22 and seized over 960 kg of cannabis.
The 10-member capital police team was led by Naharlagun SDPO D. Gumja and SI S.S Jha of Naharlagun police station. The Naharlagun police station OC coordinated the team from here.