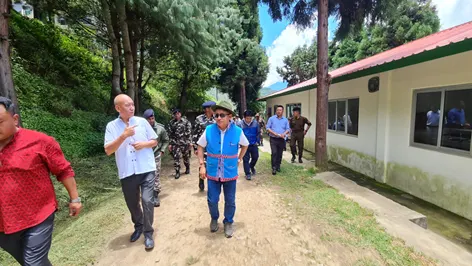 LUNGLA, 5 Jul: Tawang DC Kesang Ngurup Damo, along with Lungla ADC Tashi Dhondup, Lungla SSB Commandant Raj Kumar, and others visited the Jhamtse Gatsal School here on Tuesday.
During the visit, the school's director, Lobsang Phuntso, showed the officers the water treatment plant, the children's hostel, the mud house and the plastic recycling plant in the school campus.
He informed that "the grey and black water from the kitchen, bathroom and toilet are used for the kitchen garden, and the children and faculty members have been trained in plastic segregation and its reuse." He also showed the visitors products made of recycled plastic.
While interacting with the students, the DC expressed optimism that they would turn out to be good citizens of the country.
Later, the DC, along with Lungla BDO Tsering Wangdi and other technical officers from the RWD visited the sites and the beneficiaries of the Pradhan Mantri Awas Yojana (Grameen) and the MGNREGA in Old Lungla village, Soleng, Kharsot, and Mangnam. (DIPRO)