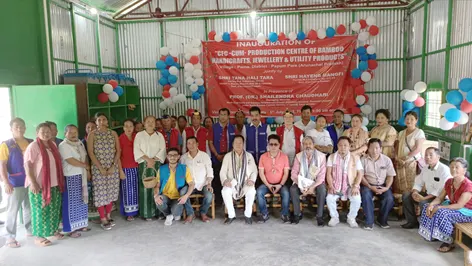 POMA, 5 Jul: A 'bamboo handicraft, jewellery and utility production and training centre' was inaugurated here in Papum Pare district on Tuesday by Doimukh MLA Tana Hali Tara, in the presence of Chayang Tajo MLA Hayeng Mangfi and others.
Tara expressed hope that the centre would help the locals become skilled and self-dependent. He assured to support the centre "for promotion of local handicrafts and products."
Mangfi on his part assured to grant Rs 5 lakhs from his LAD fund to support the centre, and urged the centre to "train a few batches of women self-help groups' members from Chayang Tajo."
Also present on the occasion was North East Cane & Bamboo Development Council (NECBDC) managing director
Shailendra Chaudhari, who informed that the Rs 50-lakh project is funded by the North Eastern Council and is being implemented by the NECBDC.
"The centre is established with the aim of motivating and promoting the communities, SHGs, farmers, field functionaries, artisans, entrepreneurs, etc, in order to build a sustainable base for production of value-added cane and bamboo products for domestic and export markets with a strong emphasis on clean, green and user-friendly technology with suitable marketing network, including employment generation," he said.
Ajin Ana Society chairperson Techi Ana, scientist RK Taj, Geology & Mining Assistant Director Tassar Talo, ZPM Hina Camdir Tok, entrepreneur Tana Yami, gram panchayat members and GBs were present on the occasion.