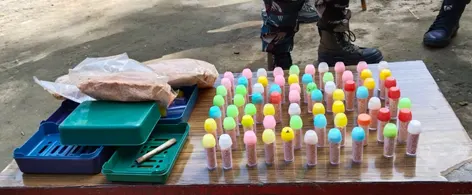 ZIRO, 5 Jul: The police here in Lower Subansiri district arrested two persons, identified as Faizul Haque (59) and Gopal Rai (25), both natives of Assam, from Para Line in Hapoli on 4 July, based on reliable input that an individual coming from Assam had arrived in Hapoli town to sell drugs.
During interrogation, Haque revealed that he had brought heroin from Assam and had kept it at Rai's rented house in Top Hill, Hapoli.
A police team, comprising Ziro PS OC Inspector Millo Lalyang, Inspector Pansam Mirip from the Ziro Women Police Station, and DSP (HQ) Tasi Darang made the arrest in the presence of Executive Magistrate Amina Nabam.
Upon searching Rai's house, a plastic pouch containing 13.41 gms of suspected heroin, a plastic pouch containing 11.13 gms of suspected heroin, a plastic pouch containing 12.51 gms of suspected heroin, and 68 plastic vials containing 104.5 gms of suspected heroin were found and seized.
A case under relevant sections of the NDPS Act has been registered at the police station here in this regard.
Later, the police also seized a Tata Sumo vehicle (AS-01BB-8512) and arrested the driver, identified as Zakir Hossain, with whom Haque had come to Ziro.
In another case on the same day, after receiving instruction from SP Sachin Singhal, Yachuli PS OC SI Tania Uli placed a naka on the national highway near the Yachuli police station for vehicle checking.
At 2:20 pm, an orange KTM bike without a number plate, being driven by one Tania Tako (19), came from the Yazali side. The rider was stopped and his bike was searched. Three vials containing suspected narcotic drug weighing .50 gms were found in his possession.
The bike and the drug, along with Rs 920 were seized from Tako in the presence of the magistrate.
The accused is currently in police custody, a case under Section 22 (A)/27 of the NDPS Act has been registered against him, and the case has been endorsed to SI Uli for investigation, informed the DSP.