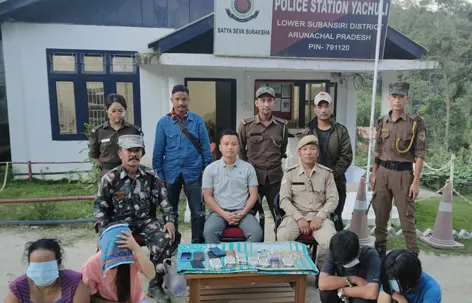 YACHULI, 7 Jul: The police here in Lower Subansiri district arrested four persons under the NDPS Act "and recovered proceeds of crime to the tune of Rs 3,68,500, along with 5 gms of suspected heroin, five watches, five mobile phones, and other materials," DSP (HQ) Tasi Darang informed in a release on Thursday.
On 4 July, one Tania Tako was arrested with 0.5 gms of suspected heroin, and a case under Section 22 (a)/27 NDPS Act was registered against him at the police station here.
During interrogation, Tako revealed that he used to buy drugs from one Gollo Onam, a resident of Doimukh in Papum Pare district.
Following this, Yachuli PS OC SI Tania Uli, along with Head Constable Gollo Budh and Constable Tari Tacha brought Tako to Doimukh.
"On reaching the suspected location, a recce was first conducted around the house of the suspected accused person. And after confirming his presence, Executive Magistrate Aying Perme and Inspector Simi Phassang were called to witness the raid and the seizure," the DSP said.
"Rs 3,68,500, along with 23 vials containing 5 gms of suspected heroin, 235 empty vials, five wrist watches, one air pistol, five phones, and other psychotropic substances (tablets) were seized," Darang added.
Three persons, identified as Nicter Yaying, Gollo Onam, and Nicter Yaha were arrested and brought to the Yachuli police station for further investigation.
"Efforts are being made to trace the backward linkages," the DSP said.