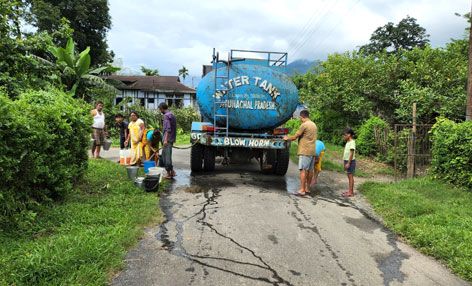 [ Karyir Riba ]
ROING, 9 Jul: Roing town and its adjoining areas in Lower Dibang Valley district have been facing serious disruption of water supply for a little more than a fortnight, and, as per information received from the PHED, the problem will continue for the next 10-15 days at least.
PHED JE Oding Pertin informed that the disruption has been caused due to landslides at various spots causing the main pipelines from the Mehao source (main water source) to break at several points.
"On 27 June, we had issued a circular, informing the general public of a possible water supply disruption. We had warned the people to use water judiciously and to store, as well," he said.
Pertin further informed that two Poclain machines have been engaged in the repair work. "One of the Poclain machines broke down, but it is being repaired at the moment. The terrain is in a worst condition and some areas are inaccessible. However, we have been working on it relentlessly. If the weather condition is good, we are estimating that the work will be done and water supply will be restored in the next 10-15 days," he said.
On 7 July, the deputy commissioner had issued an order, directing the PHED to "devise a schedule to provide alternative arrangement for water supply through the department's water tankers for the township and its satellite areas, and to provide 200 litres of water per household until the water issue is resolved."
 Pertin informed that the department has been working on a schedule to cover all the areas, and is trying its best to provide water to every household through water tankers.
Meanwhile, the Eze river and the waterfalls nearby are being thronged by people, doing their laundry, taking a bath, doing their dishes, and filling cans of water to take back home.
They informed that, during the rains, they had collected rainwater to take care of their household water needs. However, the past few days have been dry, humid and very hot. So, the river and the waterfalls are the only solace they can find for their water needs until the department restores water supply to their homes.