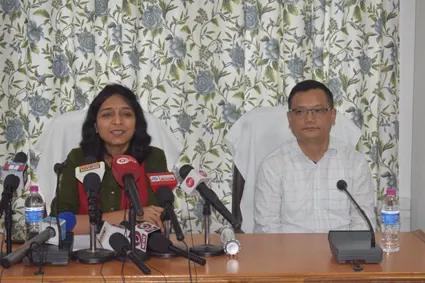 Staff Reporter
ITANAGAR, 4 Aug: Chief Electoral Officer (CEO) Padmini Singla said on Thursday that the Election Commission of India (ECI) will henceforth link electoral photo identity cards (EPIC) with Aadhaar.
Addressing media persons here, the CEO informed that linking of EPIC and Aadhaar "is to establish identity of electors and authentication of entries in electoral roll and also to identify bogus or double enrollment."
"A new form, 6B, has been introduced for submission of Aadhaar number by an existing elector. The form will be made available on the ECI website, ERONET, GARUDA, NVSP, VHA, etc, and it can be submitted both online and offline," Singla said.
However, the CEO added that furnishing of Aadhaar number "is purely voluntary."
"If the elector is not able to furnish Aadhaar number, he or she has to submit a copy of any of the eleven alternative documents mentioned in Form 6B. No entry in the electoral roll would be deleted on the ground of inability on the part of any existing elector to furnish Aadhaar number," Singla said.
She also informed that security measures for collecting and handling Aadhaar numbers will be taken care of and it will be ensured under Section 37 of the Aadhaar (Targeted Delivery of Financial and Other Subsidies Benefits and Service) Act, 2016.
"In no circumstances it should go in public domain. If electors' information is required to be put up for public display, the Aadhaar details must be removed or masked," she said.
The CEO further informed that the ECI has made another reform by giving opportunity to youths aged 17 plus years to apply in advance for voter enrollment and they do not have to wait for the prerequisite criterion of attaining 18 years of age.
"Seventeen plus-year-old youngsters can now apply in advance for having their names enrolled in voters' list and not necessarily have to await the prerequisite criterion of attaining 18 years age on 1 January of a year," she stated.
Singla said that the ECI has directed the CEOs, EROs and AEROs of all states to "work out tech-enabled solution, such that the youths are facilitated to file their advance application with reference to three subsequent qualifying dates such as 1 April, 1 July and 1 October and not just 1 January."
"The electoral roll will be updated every quarter and eligible youngsters can be registered in the next quarter of the year in which he or she has attained the qualifying age of 18 years," the CEO added.
"Any citizen attaining the age of 18 years by 1 April, 1 July and 1 October of 2023 can also submit an advance application for registration as a voter from the date of draft publication of the electoral roll," she said.