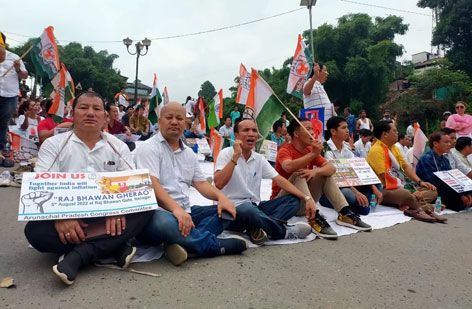 Staff Reporter
ITANAGAR, 5 Aug: The Arunachal Pradesh Congress Committee (APCC) on Friday staged a sit-in protest over inflation, growing unemployment, "imposition of the Agnipath scheme," and the implications of the GST on essential commodities.
Members of the APCC and the AP Youth Congress (APYC) marched from Nyokum Lapang to the Raj Bhavan to gherao the Raj Bhavan but were stopped by the police and armed personnel, which led them to stage a sit-in protest on the road leading to the Raj Bhavan.
In the morning, at around 9 o'clock, the team of protestors was stopped by the police at the Nyokum Lapang gate. However, after a confrontation, the Congress leaders went ahead with the march.
Former chief minister and APCC president Nabam Tuki in his address to the media raised concern over the issues and said that their voice "should reach the government at the Centre."
On being asked whether the protest was political in nature as the general elections are barely two years away, Tuki cited the example of the erstwhile Congress government and said that when it was in power, "the rate of LPG was Rs 400, whereas now it is Rs 1,100."
"During those days, the citizens used to hit the streets over rising prices, but now, when the prices are soaring up from before, the masses are silent," Tuki lamented.
On the Agnipath recruitment scheme, Tuki said that "the scheme is not goal-oriented for the youths, and the Centre should rethink on the issue."
He questioned whether the 'agniveers' would have any job security after completing four years of service, and added that even "pay hikes on applying for new jobs are not guaranteed."
Tuki said that the old process of recruitment should be implemented, adding that the Agnipath scheme "will demoralise the job applicants wishing to join the Indian Army."
APYC president Tarh Johny said that "more such protest will be carried forward, led by the APYC."
He expressed resentment over being stopped near the Raj Bhavan gate. "This is not the first time to organise a Raj Bhavan gherao protest. Several times it has been done; but we were allowed to express our protest at least some metres away and a barricade had been set up," he said.
The APYC also condemned the BJP's 'Har Ghar Tiranga' campaign, terming it "blackmailing of patriotism," and said that the BJP "is playing politics over a flag."
Senior Congress leaders and Mahila Congress members also participated in the protest.