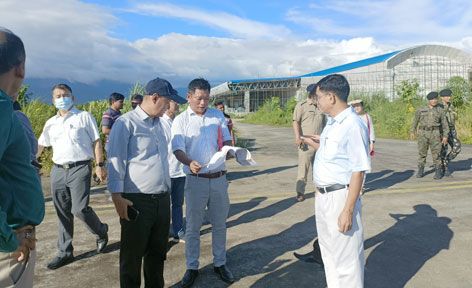 TEZU, 5 Aug: North Eastern Council (NEC) Secretary K Moses Chalai said that the Tezu airport in Lohit district, funded by the NEC, is a major investment in the district, and that the airport would immensely benefit the local population.
On Friday, the NEC secretary, accompanied by the councils' Science & Technology Director Tanung Jamoh and the state's Planning & Investment Joint Director Okep Tayeng, visited here to take stock of all the schemes funded by the NEC in the district.
Tezu airport director Amarkant L Sonawane informed the visiting team that all the major work for the airport have been completed and the remaining work will be completed by 31 October this year.
Currently, airliners Fly Big and Alliance Air are providing services, connecting Assam's Dibrugarh and Guwahati with Tezu, the director said.
More flights to major cities in the Northeast are in the pipeline, he added.
Earlier, the team, accompanied by Lohit DC Marge Sora, inspected the terminal block, the apron area, and the ATC tower-cum-technical block of the airport.
Representatives of the TCIL, the executing agency, were also present during the visit.
The team also visited the Kendriya Vidyalaya here to inspect the playground rostrum and gallery which were funded by the NEC and completed last year.
Later, the NEC members interacted with the HoDs, during which the DC presented an overview of the district.
The NEC secretary said that the district is blessed with abundant plain land and good connectivity. "The district can benefit from agri-horti sector; hence, major emphasis should be given to double the income of the farmers," he said. (DIPRO)