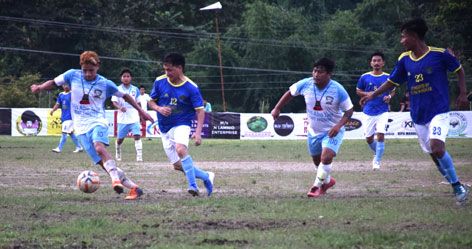 CHIMPU, 5 Aug: Bargin Yamane FC and Binyat Raseng FC won their respective matches in the Solung Football Festival Tournament, 2022 played at the AAPBn ground here on Friday.
Bargin Yamene FC defeated Ngargo Raseng 4-0, while Binyat Raseng edged past Mumlung Raseng 2-1.
Maktem Yirang scored two goals for Bargin Yamene FC and Kapang Moyu and Nini Pertin netted one goal each.
Binam Taloh and Tanil Gao were the scorers for Binyat Raseng team.
Taloh put his team ahead by scoring in the 27th minute. Atem Nonang restored the parity in the second half through a penalty kick in the 67th minute.
Gao scored the match winning goal in the added time (70+1 mins).
Botin Binggep of Bargin Yamaene and Jayanto Perme of Binyat Raseng were adjudged players of the matches.
On Thursday, Bogum Narmi and MR Siang UFC registered wins, beating Koje Janggo and Banne Raseng, respectively.
While Bogum Narmi defeated Koje Janggo 2-0, Siang UFC outplayed Banne Raseng 5-0.
Dumut Takuk and Tom Lomtung scored for Bogum Narmi team.
For Siang UFC, Mibom Dai scored two goals and India Saroh, Annong Apang and Neymar Pajing scored one goal each.
Boya Rida of Bogum Narmi and Omin Panggeng of Siang UFC were adjudged players of the matches.