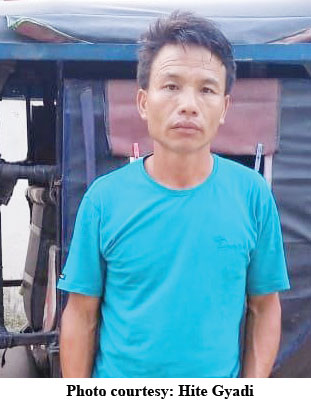 ITANAGAR, 5 Aug: Proving that honesty is the best policy, Lokar Tallo, an autorickshaw driver in East Kameng HQ Seppa, used the social media to trace a passenger who had left a bundle of Rs 500 notes, amounting to Rs 50,000, below the passenger seat of his autorickshaw on Friday.
Tallo had ferried two or three passengers from the autorickshaw stand in Medical Colony, and later, at around 9 am, found a bundle of Rs 500 notes when he was looking for his bag in the back of the autorickshaw.
Seeing the notes, Tallo immediately posted a video on social media with the help of another person, seeking out the passenger who had left the money, and provided his own contact number on social media.
The owner of the notes approached him within minutes, and Tallo returned the money to the owner.
Tallo said that his act "conveys a message that, contrary to popular belief, honesty still prevails among the autorickshaw drivers in Seppa."