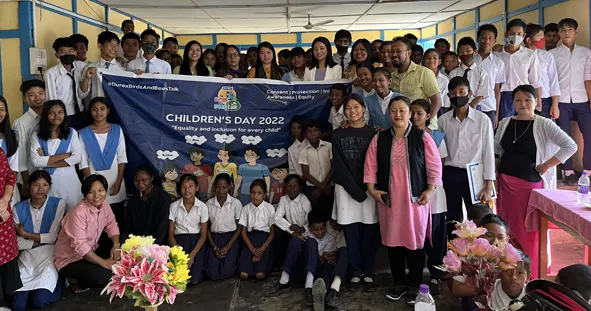 MANMAW, 22 Nov: The India chapter of Plan International, under 'The Birds and the Bees Talk (TBBT)' project, launched by Reckitt, organised an event to commemorate the International Children's Day at the government secondary school here in Namsai district on Tuesday.
Namsai Circle Officer Mihin Anku, who attended the event, said that, for inclusive development of a society, the vulnerabilities and wellbeing of every individual should be addressed in the same manner that other aspects of development are addressed.
She advised the students to learn about the lesser discussed but immensely important topics and subjects, and to not shy away from reaching out to their near and dear ones in a crisis situation.
She thanked the TBBT team for choosing Namsai as one of the six districts where the project is being implemented.
DDSE K Umbon encouraged the students to learn about their rights and whom and where to reach out to "during unforeseen events." She emphasised also on formation of child protection committees in all the schools.
"Silence against crimes will only aggravate it more; so, we should learn to speak up," she said.
State lead Ashim Nicholas Kawah informed that the TBBT project is being carried out in six Northeastern states and six districts of Arunachal Pradesh.
Under the project, teachers are trained and students are introduced to topics such as puberty, substance abuse, peer pressure, etc.
"The habits inculcated at adolescence stage are something that a child will carry to later stages; hence, grooming and nurturing at this stage is important and awareness about these concepts helps the adolescents to make informed and responsible decisions," Kawah said.
Block coordinator Sanya Aboh spoke about the significance of the project, saying that it is aimed at creating awareness among the children "about their rights, issues, and opportunities."
The child protection officer spoke on 'good touch and bad touch'. The evils of child marriage, child trafficking, illegal adoption, child labour, etc, were also discussed, and it was proposed that complaint boxes be set up in all the schools to enable the students to open up about their complaints.
A quiz competition was organised and prizes were distributed. A book club comprising students was also formed during the programme, which was attended by the school's faculty members, the TBBT team, and students. (DIPRO)