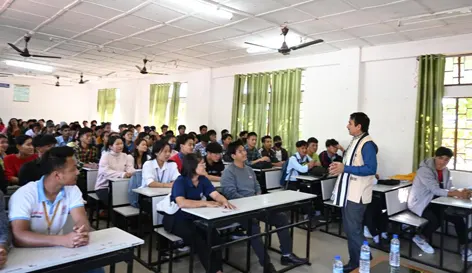 ITANAGAR, 24 Nov: Over 200 students attended a special motivational lecture session on 'Overcoming examination stress', organised by the career counselling cell of the Dera Natung Government College (DNGC) here on Wednesday.
The special lecture was organised to help students of all colleges affiliated to RGU, as well as the students of RGU who are going to appear for their end-semester exam from 5 December onwards.
DNGC Principal Dr MQ Khan, who was the main speaker, dwelt on various aspects of examination-related stress and elaborated effective ways to overcome them.
"Students should study sincerely right from the beginning of the academic session and avoid all sorts of distractions, especially addiction to the the internet and social and electronic media. Negativity and pessimism can never do any good. The need is to be positive and optimistic in all situations by understanding and appreciating the brighter sides of everything. Excess use of the internet on mobile, laptop, or computer can cause sleep disorders, memory loss and affect mental health by contributing to stress," he said.
He advised the students to "maintain continuity in preparation, and practice a lot to cultivate the skill of writing clearly, coherently, precisely and correctly, in order to overcome examination stress."