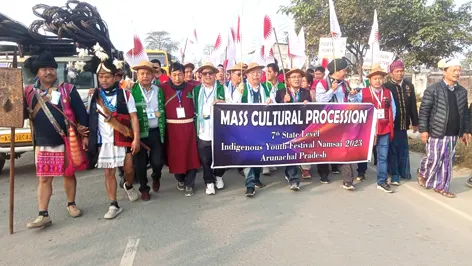 NAMSAI, 23 Jan: The 7th State Level Indigenous Youth Festival, themed 'Infusing sense of belongingness to own roots', concluded on an impressive note with participation of around 2,000 delegates, besides the central and district unit members of the Indigenous Faith & Cultural Society of Arunachal Pradesh' (IFCSAP) and allied organisations from 25 districts of the state and across the country, at the Poi Pee Mau ground here on 21 January.
Local MLA Zingnu Namchoom, who attended the closing function, urged the youths to "make the knowledge and experiences they gained during the youth festival as stepping stones towards their future life."
He advised them to also "keep exploring and accessing the world of indigenous knowledge through such platforms."
Later, Namchoom, along with IFCSAP president Katung Wahge, the Namsai ZPC, and retired IAS officer Tape Bagra, gave away the prizes to the winners of various competitions conducted during the youth festival.
Kra Daadi emerged the champion of the boys' volleyball competition, while Anjaw team was the runner-up.
The festival witnessed participation of youths in cultural competitions like folksongs, traditional devotional dances, traditional folkdances, and local modern dances.
The games and sports events included archery, athletics, marathon and volleyball for both boys and girls. Essay writing and drawing competitions for both senior and junior categories, and an extempore speech competition were also conducted.
A symposium was also organised, during which Bagra and PWD SE Chau S Chautang spoke about tribal cultures, traditions, languages, folk arts and belief systems.
The festival concluded with a fashion show in the evening of 21 January.
Earlier, Deputy Chief Minister Chowna Mein in his inaugural address commended the IFCSAP "for its untiring efforts towards preservation, practices and continuity of the rich tribal faith, culture and traditions," and opined that "the youth festival organised under the aegis of the IFCSAP would provide a platform for cultural integration while also promoting social and religious harmony among the varied faith groups and indigenous communities of the state."
Former Rajya Sabha member Tarun Vijay exhorted the community members to "guard the faith, practices, costumes, traditions and legacies of their vibrant culture against the onslaught of modernisation and globalisation."
Wahge described the youths as "the building blocks, backbone and pillars on which a nation rests," and called upon the stakeholders, civil society groups and the community to "nurture the youths in right perspectives."
"The more we nurture them properly, empower them today, the brighter tomorrow our nation will witness," he said.
The IFCSAP president also reiterated the need for early implementation of the Arunachal Pradesh Freedom of Religion Act, 1978, which was passed about five decades ago. He also reiterated the demand for "restoration and renaming of the indigenous affairs department to its original name of 'indigenous faith & cultural affairs department', as notified in 2017 in the gazette of the state.