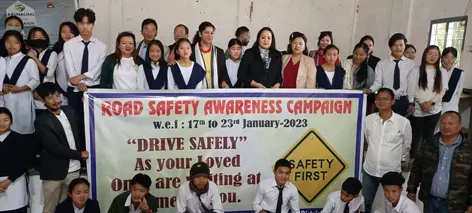 MANI, 24 Jan: Expressing concern over the rising road accidents, particularly those involving youngsters, Transport Special Secretary Parul Gaur Mittal asked the headmaster of the government secondary school (GSS) here in Papum Pare district to "initiate formation of a road safety cell in the school," and assured to provide financial assistance for the purpose.
Mittal was addressing the students and teachers of the school during a drawing competition on road safety, which was held at the school in the last leg of the Road Safety Awareness Week.
"This cell will arrange road safety programmes and create awareness, thereby inculcating good driving habits among youths," Mittal said.
She advised the students to strictly follow the traffic rules and regulations.
EAC Dr Nikita Panggam said that "such literary events compel the participants to research on the topic, and thus the children learn in the process."
GSS Headmaster Nabam Rikam also spoke.
Patey Mary (Class 8), Nabam Rangbia (Class 9) and Nabam Rija (Class 8) were adjudged the first, second and third prize winner, respectively. They were awarded cash prizes of Rs 5,000, 3,000 and 2,000, respectively, along with certificates.
A video on traffic rules and regulations and the government's welfare schemes for students was screened by the IPR department during the programme. (DIPRO)