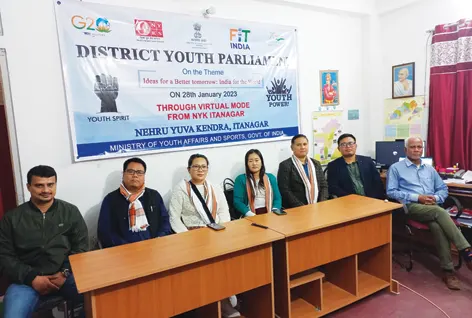 ITANAGAR, 28 Jan: Youths from all the districts of the state participated in a virtual district youth parliament organised by the Nehru Yuva Kendra (NYK) from here on Saturday.
The parliament was themed 'Ideas for a better tomorrow: India for the world'. The jury consisted of RGU Assistant Registrar Gomar Basar, APSACS assistant director Koj Tara, APCC vice chairperson Mina Toko, and MIS expert Laya Lombi.
The event was organised as part of the National Youth Parliament Festival, scheduled to be held in New Delhi on 23 and 24 February.
"Thirty-two winners from 18 districts were screened to go to the state level. A total of three winners from the state level will be invited to take part in the national youth parliament in New Delhi in the physical mode," the NYK informed in a release.
The first, second and third place winners at the national level will receive prize money of Rs 2 lakhs, Rs 1.5 lakh and Rs 1 lakh, respectively, it said.