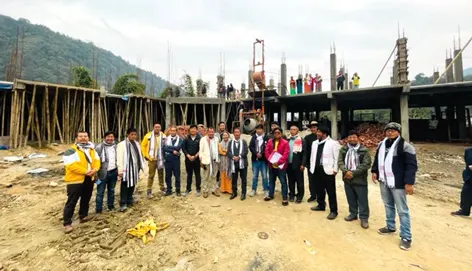 NYAPIN, 28 Jan: Nyapin MLA and Home Minister Bamang Felix recently toured his constituency in Kurung Kumey district to review the progress of various developmental projects in it.
A slew of projects, ranging from connectivity to accommodation for administrative service officers, are being undertaken in Nyapin to help usher in modernity and ease of living in the district.
In Nyobia circle, Felix inspected the construction of the PMGSY road from Nibi to Hiba village, being executed by the Sangram rural works division. The road connects Nyapin and Koloriang assembly constituencies.
Speaking with the RWD executive engineer and the local contractors, Felix directed them to ensure that the road is completed within the stipulated time while also ensuring that it remains "blockade-free at all times."
The minister also visited Satang Sinik Lake, about 2.5 kms from Nibi village. Once a natural lake, Satang Sinik is known for the tale of a legendary folklore figure, Taram Gaming.
Felix advised the villagers to keep their surroundings plastic-free, and to conserve the ecology.
Stating that the lake can be rejuvenated and promoted as a tourist destination, the minister appealed to the villagers to "cooperate with the administration in its conservation efforts."
In Sangram subdivision, the minister inspected the construction of the BRTF road to Layang under the CRIF, the construction of the police station and a barrack in Layang, and the fire services building site in Pokriang.
He also visited the construction sites of four bridges – Patrey, Yachi, Paya and Pani – which are being executed under the RIDF by the Sangram PWD division.
All four bridges have been completed and will be inaugurated shortly.
In Nyapin, Felix inaugurated a water treatment plant for Nyapin township under the Jal Jeevan Mission, covering 129 households in Police Colony, Hojuriang, Passa, and Army Colony.
The project was implemented by the Sangram PHED&WS division.
The minister also inspected the construction of the helipad in Nyapin, the circuit house, the Tadar Tang Community Health Centre, the mini-secretariat, and the construction of the fire services building.
These projects are expected to be completed before the year ends.
In Phassang circle, Felix inaugurated a multipurpose tribal welfare building (Nyokum namlo) in Lungsa, which was constructed by the Nyapin block development office.
He also inspected the construction of the indoor badminton stadium, the PMGSY roads, the two-lane road from Nyobia circle – via Sangram, Nyapin and Phassang circles – to Chayang Tajo in East Kameng district, and the PHED&WS section office and quarters.
He advised the panchayat leaders to utilise the funds allocated to them under the state-owned revenue to create valuable assets for the rural people. (HM's PR Cell)