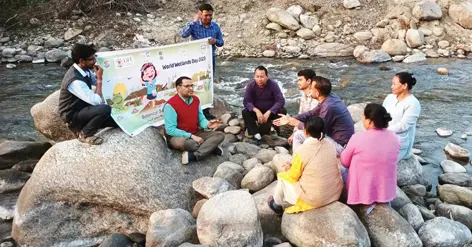 ITANAGAR, 3 Feb: The regional centre (RC) of the Botanical Survey of India (BSI), in collaboration with the Jawaharlal Nehru State Museum, celebrated the World Wetlands Day by organising an awareness programme here on 2 February.
The day is celebrated every year on 2 February to create awareness about conservation, significance and the role of wetlands in the protection of biodiversity. With 75 Ramsar sites, covering over 13 lakh hectares, India has the largest number of wetlands in So-uth Asia.
 Officials of the RC and the museum, along with visitors participated in the programme, during which BSI RC Head Dr VK Rawat educated the attendees about the importance of wetlands for the environment, and urged them to protect their local wetlands.
In keeping with the theme of this year's celebration – 'It's time for wetlands restoration' – the officials of the RC and the museum participated in a cleanliness drive near the Dikrong river in Senki View area, the RC informed in a release.