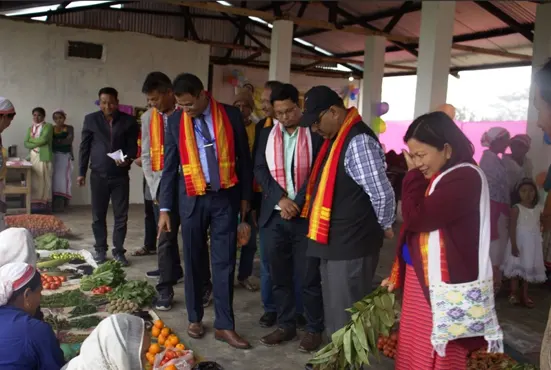 NEW MOHONG, 9 Feb: NABARD General Manager Partho Saha inaugurated a rural haat (permanent market shed), supported by the NABARD, here in Namsai district on Thursday.
The rural haat also has a storage room, besides office space, toilets with water supply and sanitation facilities, a compost pit, and parking space for customers. It was implemented by Namsai-based farmers'-producers' company (FPO) NOSAAP Producers Co Ltd, with financial assistance from the NABARD.
The haat will be overseen by a management committee.
Saha informed that this rural haat is the third one to be established in the district, and expressed hope that "the marketing opportunity would motivate farmers to think beyond subsistence farming and go for commercial agriculture."
DDMA Kamal Roy said that the haat will provide a platform for farmers and SHG members to sell their agri-horti, handloom, handicraft and livestock products, covering 15 villages besides New Mohong.