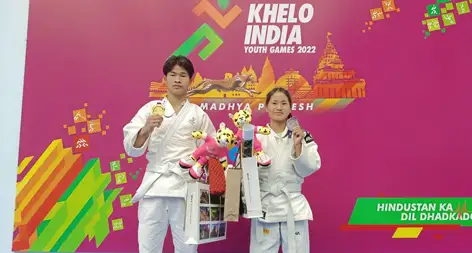 Kentu Lap wins gold, Pomen Teppa silver in judo
ITANAGAR, 8 Feb: The dream run of the girls' football team of Arunachal Pradesh at Khelo India Youth Games (KIYG) came to an end as they lost 1-4 to West Bengal in the first semifinal at Balaghat, Madhya Pradesh on Wednesday, chef de mission Karbia Dodum informed.
The state's girls' football team will be awarded a bronze medal.
On Wednesday, Aruna-chal won two judo medals.
While Kentu Lap won a gold medal in boys' below 60 kg bodyweight category, Pomen Teppa won a silver medal in girls' below 40 kg bodyweight category.
Lap beat Jatin Tokas of Delhi in the final bout by 'ippon' (a full throw in which a contestant throws his opponent to the mat with considerable force and speed).
He had beaten Arun Kamal of Madhya Pradesh in the pre-quarterfinal, Anil of Haryana in the quarter-final and Sagar Sharma of Punjab in the semifinal.
Teppa lost her final bout to Sapna of Chandigarh by Ippon. She entered into the final defeating Payal Chavda of Gujarat by Wazari in the quarterfinal and Himasu Bisnoi of Rajasthan by Wazari in the semifinal.
With the two judo medals, Arunachal Pradesh medal tally on Wednesday rose to 9-three gold, two silver and four bronze medals.
Tang Tada and Wangdong Lowang lost their quarterfinals bouts against Deevanshu Kataria of Chandigarh Himansu of Chandigarh, respectively.
On Thursday, Kabi Doyom will face  Nidhi Yadav of Madhya Pradesh in the girls'  48 kg judo pre-quarterfinal, while  Gegul Goi will be up against Gangothri K of Andhra Pradesh in another judo pre-quarterfinal.
Tarsu Tali will meet Anuj Kumar of Uttar Pradesh in boys' judo pre-quarterfinal.
In weightlifting, Balo Yalam (59 kg) lifted 170 kg in total (snatch 75 + clean & jerk 95 kgs) to finish fourth among the 12 competitors, while Pipi Yangfo (64 kgs) secured the 11th position out of the 12 competitors. She lifted 60 kgs in the snatch and 81 kgs in the clean and jerk for a total of 141 kgs.
Tayar Ronik (81kg) lifted a total of 233 kg (snatch 98 + clean & jerk 135) to finish 9th among 12 competitors.
Ginjin Tari competed in 'Road Individual Time Trial' of the cycling event, but could not make it to podium.
In Thang-Ta, John Sangdo lost 17-21 to Haseeb Shafi of Jammu & Kashmir in Phunaba Ama in 56 kg category.
Amit Sangdo will be competing in Phunaba Anisuba in below 56 kg category on Thursday.