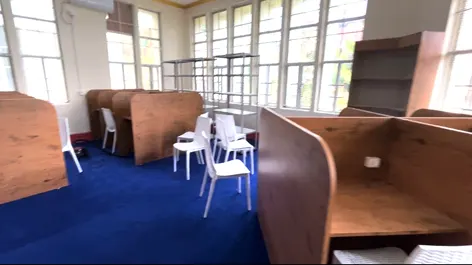 [ Bengia Ajum ]
ITANAGAR, 23 Feb: The state library here, which is an important institution catering to the needs of the general public, in particular the student community, is getting a major facelift under the Smart City Mission of the Itanagar Smart City Development Corporation Limited (ISCDCL).
As part of this project, efforts are being made to improve the facilities in the library for the young generation who are preparing for various competitive examinations.
To improve the infrastructure of the reading room, a total of 100 cubicles have been installed for the readers.
"During inspection, it was noticed that readers were studying at an open table, and most of the time they get distracted by the movement of fellow readers in the room. Hence, it was decided to provide a cubicle reading table, which was readily accepted by the director. The capacity of readers has also increased by increasing the reading table," ISCDCL Assistant Engineer Marpek Riram, who is overseeing the work, informed.
Air conditioners and steel racks have also been installed in the reading room. Further, the two buildings of the library have been renovated. This included repairing the leaky roofs and repainting the buildings.
When the ISCDCL carried out a survey of the buildings, it was found that the toilets were mostly not usable.
"There was no proper septic tank, due to which toilets could not be used. For students coming to the library, a good toilet was needed, and therefore we decided to carry out the renovation," said Riram.
The electrification has been redone and an RO water cooler has been installed in the library.
Apart from improving the infrastructure, a significant step that the ISCDCL took was to supply 1,000 new books to the state library.
"These books include those dealing with civil service examinations conducted by the APPSC and the UPSC. They have been procured after carefully examining the needs of the students visiting the state library," added Riram.