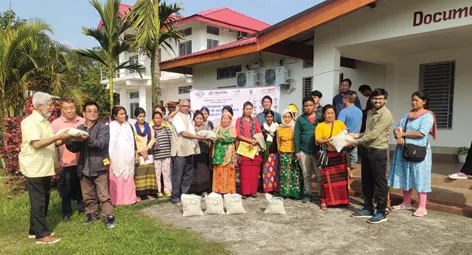 ROING, 12 Mar: Forty-five farmers from nine villages of Lower Dibang Valley district participated in a training programme on 'Millet as nutri-cereal', organised by the RIWATCH near here, in collaboration with Pasighat (East Siang)-based College of Agriculture (CoA), recently.
During the programme, CoA lecturer Dr Premaradhya, who is also the nodal officer for millet promotion in the Northeast, said that, "Compared to rice and other cereals, millet contains plenty of iron, zinc, folic acid
and high amount of vitamins, minerals and proteins," and informed that "the kodo and the foxtail varieties of millet are grown in Arunachal."
The CoA distributed 2.5 kgs of millet seeds to each farmer.
"The Research Institute of World's Ancient Traditions, Cultures & Heritage (RIWATCH) has adopted 150 farmers from 15 villages for immunity boosting, and this programme was a part of it," the institute informed in a release.