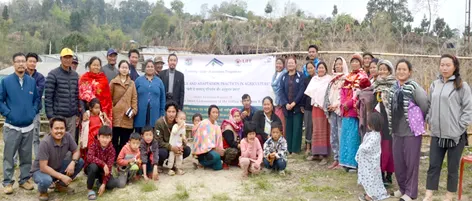 YACHULI, 15 Mar: Forty villagers, including farmers, along with members of SHGs, and unemployed youths participated in a 'training-cum-awareness programme on climate change and adaptation practices in agriculture', organised here in Lower Subansiri district on Wednesday by the Govind Ballabh Pant National Institute of Himalayan Environment's (GBPNIHE) Northeast regional centre (NERC).
The programme was part of the pilot project titled 'Fostering climate smart communities in the Indian Himalayan region', the institute informed in a release.
During the programme, GBPNIHE-NERC Scientist-C Tridipa Biswas spoke about the "causes and effects of climate change, particularly in the agriculture sector, which is critical for ensuring food, nutrition and livelihood securities for human beings."
Stating that crops can be damaged by droughts or extreme weather, she highlighted how the agriculture sector can prepare for extreme weather and other risks associated with climate change.
Yachuli ADO Duyu Udi urged the farmers and the local communities to "adopt adaptation practices to reduce vulnerability and increase productivity." She spoke also about various adaptation practices in agriculture.
GBPNIHE-NERC JPF Rupankar Rajkhowa and NEIDA FC Joram Ajo dwelt on the current scenario of Lower Subansiri district in terms of climate change impacts on agriculture, and on the role of the farmers in mitigating these impacts.
The programme was aimed at raising awareness among the local communities about climate change and the need for adaptation practices in agriculture. It provided a platform for the local farmers to learn about new practices and technologies that can help them adapt to the changing climate.