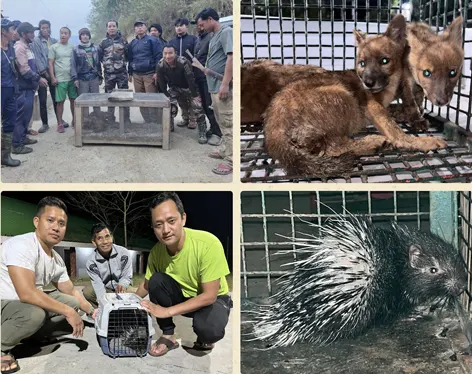 [ Bengia Ajum ]
ITANAGAR, 17 Mar: Three female Asiatic wild dogs rescued from Shalley village in Lower Subansiri district were relocated to the biological park here.
A team led by Wildlife Veterinary Officer Dr Sorang Tadap on Friday received the rescued puppies from the Yachuli forest range officials, and later brought them to the biological park here. The puppies, aged between 2 and 3 months, had been rescued on 15 March by the villagers of Shalley.
Members of the Shalley Pistana Panchayat Welfare Society handed over the rescued puppies to the officials of the Yachuli forest range.
"Several incidents of mithuns belonging to local villagers being killed were reported from Shalley village. When the villagers started to search for the killer, they saw these puppies. Most probably they were part of a large group and got separated from it," said Dr Tadap.
The Asiatic wild dogs are listed under the endangered category of the IUCN Red List. They are protected under Schedule-II of the Wildlife Protection Act, 1972, and Appendix-II of the Convention on International Trade in Endangered Species of Wild Fauna and Flora.
"The pups are very healthy, and they will be under quarantine. As of now, there are seven rescued wild dogs housed in the zoo," informed Dr Tadap.
Last week, a 7 feet long Burmese python was rescued by the Itanagar Zoo officials from a culvert in Lumri Village in Lower Subansiri district. The rescued python was later brought to the biological park here.
A baby porcupine was also rescued by one Tana Johan and his team from Tarasso in Papum Pare district. The rescued porcupine was also brought to the biological park.
"Tana Johan, who is a police official, is known for carrying out such rescues. Previous year also, he had rescued a few endangered animals and we appreciate the role of citizens like him," said Dr Tadap.