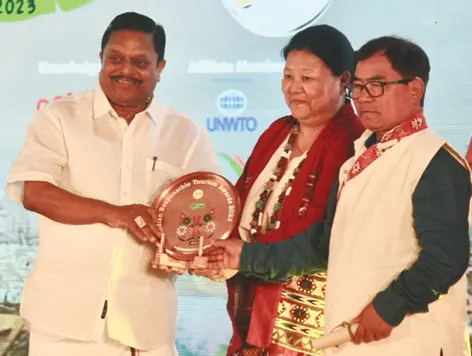 ITANAGAR, 17 Mar: Indi Glow from Arunachal Pradesh received the Sustainability Champions: Pathfinders Award, and was also the overall winner of the 'Outlook Responsible Tourism-2023' event.
The award was presented to him by Tamil Nadu Tourism Minister K Ramach-andran, in the presence of Tamil Nadu Tourism Principal Secretary Dr K Chandra Mohan, in Ooty on Friday.
Glow, who started his eco camp in Lama Camp in West Kameng district in 2004, has been instrumental in setting up Arunachal's first-ever 'high income-low impact' tourism, targetted towards birdwatchers in the Singchung Bugun Village Community Reserve (SBVCR) and the Eagle- nest Wildlife Sanctuary (EWS).
The camp has camping facilities that provide only vegetarian meals to tourists. Use of single-use plastic is not permitted, and tourists are given cloth bags for returning single-use plastic items on a security deposit basis.
His tourism model in Lama Camp has substantially transformed the local economy by generating significant rural employment, and it has led to massive support for wildlife conservation.
Almost every family in the villages in the region have or have had members employed as cooks, drivers, camp staffers and expert bird guides. Local traders have seen their incomes go up greatly as they now supply provisions, fresh vegetables and other goods to Lama Camp.
Entry fee and vehicle fee are deposited with the community and are used for village development activities. Substantial incomes – for example, an expert bird guide can charge up to Rs 10,000 per day for their services – are generated because of the persistence of forests and wildlife in this landscape.
There is now massive support for preservation of forests and wildlife by all stakeholders in the area.
Glow's tourism and conservation efforts have led to massive reduction in hunting and extraction of forest resources.
Since 2012, Glow has been providing tourism facilities and services free of cost to host residential wildlife and conservation awareness camps for middle school and high school students of 10 schools in the area.
These camps are held every year and over 600 students have attended these weeklong camps, with some moving on to become passionate birdwatchers and expert bird guides.
Other villages in Arunachal Pradesh have expressed interest in replicating this model, with similar tourism initiatives having been initiated in the neighbouring villages of Rupa and Shergaon.
Glow's tourism model has transformed Lama Camp from being a centre of forest exploitation to the flagship ecotourism centre of the the SBVCR-EWS landscape.
Around 300-400 birdwatchers visit the landscape every year.
The Bugun community has voluntarily declared 47 sq kms of their traditional land as a community reserve. Over 600 bird species are found in the SBVCR-EWS landscape.
In addition, the critically endangered Bugun Liocichla (Liocichla bugunorum), a bird species discovered in 2006 and named after the Bugun community, is only found on the traditional lands of Singchung village. The known global population of Bugun Liocichla is not more than 20 individual birds, with a worldwide range of just around 2 sq kms.
The name of bird has been dedicated to the Bugun tribe for their pioneering ecotourism and conservation efforts. The SBVCR encompasses the entire global range of the Bugun Liocichla, in addition to red panda, clouded leopard, Asiatic wild dog, Asiatic black bear, Asian elephant and the Fairrie's lady slipper orchid.