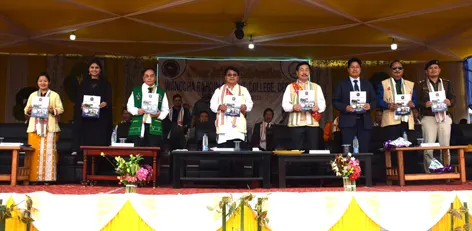 DEOMALI, 18 Mar: Lok Sabha member Tapir Gao said that the Wangcha Rajkumar Government College (WRGC) here in Tirap district is playing a major role in moulding the future of the students.
Attending the silver jubilee celebration of the college on Saturday, Gao congratulated all the past and present faculty members "for rendering services to the college and producing a good number of educated youths."
"Since its establishment, the Wangcha Rajkumar Government College is doing tremendous job for the students of Tirap and Longding districts in bringing confidence and moulding the future of young students," he said.
Stating that drugs and insurgency problems are the major hindrance to the development of the TCL region, Gao urged all to fight against
 all such antisocial activities and to "extend cooperation to the district administrations and the security forces to curb the menaces."
Emphasising the importance of using one's mother tongue, Gao said that "mother tongue is the tool for preservation and promotion of one's own culture and traditions."
Responding to a memorandum submitted by the college's principal, the MP announced Rs 20 lakhs for construction of the college's kitchen, and another Rs 2 lakhs for tree plantation in the college campus and for a football ground.
Earlier, Gao paid homage to late Wangcha Rajkumar. He also released the souvenir 'Rang O'.
Borduria-Bogapani MLA Wanglin Lowangdong promised to continue supporting the efforts to develop the college further, saying that "the WRGC is the only college for the twin districts of Tirap and Longding."
Lowangdong said that the WRGC "can be developed as one of the premier colleges in the state if the government takes proper care of it."
DoTCL Minister Wangki Lowang commended the faculty members "for the academic achievement of the college despite tough times in the initial stage of establishment of the college at Chatjo due to security reason."
He assured to provide all possible help to further improve the college's infrastructure.
Earlier, WRGC Principal Dr Monshi Tayeng highlighted the achievements of the college in the last 25 years.
Tirap DC Hento Karga, SP Kardak Riba, Deomali ADC Vishakha Yadav, Tirap ZPC Chathong Lowang, the ZPMs of Deomali, Soha and Bari-Basip, the principal of the Deomali GHSS, village chiefs and GBs attended the function. (DIPRO)