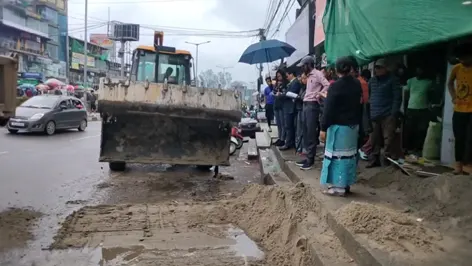 ITANAGAR, 20 Mar: In view of the upcoming G20 summit in Itanagar, the Itanagar Municipal Corporation (IMC) conducted an 'eviction and clearance drive' in the Ganga market area on Monday, in the presence of the magistrate and police personnel.
The IMC imposed penalties, "as per the high court order," on those littering public places, it stated in a release.
Addressing media persons, IMC Commissioner Likha Tejji said that "eviction and clearance drive is a regular process of the IMC. However, in view of the proposed G20 summit to be held in Itanagar on 25 March, the IMC is intensifying its groundwork for a clean and green Itanagar."
"We are evicting illegal hoardings near the highway, clearing construction materials on the roadsides, and other obstructions that are creating hindrances to the free flow of traffic. Moreover, the IMC is imposing penalties on those who
 litter public places, including shopkeepers who are not keeping their surrounding clean," Tejji said.
He informed that the corporation will start "night sweeping in the capital region, and eviction of stray animals will be started soon."
Tejji appealed to the people to "confer equal support to the IMC to make the state's capital clean and green."