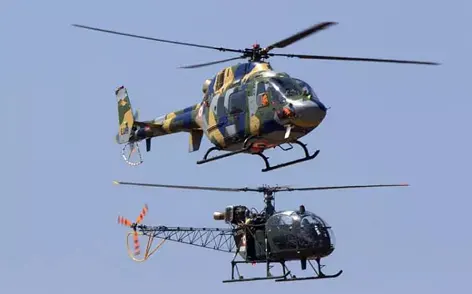 [ Pisi Zauing ]
KOLKATA, 21 Mar: Following the death of Indian Army pilot Lt Col VVB Reddy and co-pilot Maj Jayanth A in a Cheetah chopper crash near Mandala in Arunachal's West Kameng district on 16 March, several retired army officers, mostly from the Army Aviation Corps (AAC), have demanded that the defence ministry come clean on the schedule of delivery of light utility helicopters (LUH) to replace the ageing fleet of Cheetahs, Cheetals and Chetaks.
The demand for replacing the "single-engine relics" has been pending for long. In October 2022, Lt Col Saurabh Yadav, who was piloting an AAC Cheetah, died in a similar crash near Tawang.
The army started using these helicopters nearly 60 years ago. Many of their airframes are weak and their avionics are outdated. These helicopters were supposed to be replaced in a phased manner by the LUHs developed by the Hindustan Aeronautics Ltd (HAL).
These helicopters are crucial for reconnaissance and surveillance, as well as for keeping forward posts supplied. They also play a major role in medical evacuation from forward bases.
A retired AAC officer said that weather is a major issue in the northeastern states where these helicopters operate. "This is why the AAC requires sturdier machines with superior avionics," he said.
In February this year, Indian Army Chief Gen Manoj Pande had said that nearly 250 Cheetahs, Cheetals and Chetaks in the force's inventory would be replaced by advanced helicopters. The single-engine LUHs in the 3-ton class are the first choice.
The first two LUHs are expected to be inducted soon.
According to sources, the defence ministry has already issued a letter of intent to the HAL for procurement of 12 LUHs.
The HAL has set up a new unit for assembling these helicopters after the development of three prototypes at its Bengaluru plant. Four helicopters are now being readied at the new setup in Tumakuru, Karnataka. These will be known as the low-rate initial production 1 (LRIP1) series. While two of these will go to the AAC, the remaining ones will be commissioned into the Indian Air Force (IAF).
The eight helicopters of the LRIP2 series will be completed in 2024. Out of these, four will go to the army and the remainder to the IAF.
"At this rate, it will take two decades for the entire fleet of ageing helicopters to be replaced. While this happens, we will be putting the lives of more pilots at risk. The ministry needs to ensure faster production and delivery, even if this involves setting up of more assembly lines," another retired officer said.