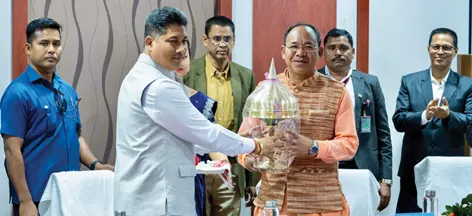 GUWAHATI, 24 Mar: The regional committees of Assam and Arunachal Pradesh on the border issue in the Biswanath-Pakke-Kessang area have decided to present their final recommendations in the matter to the respective state governments, following a meeting held at the Assam Administrative Staff College in Khanapara here on Friday.
During the meeting, which was attended by Assam regional committee chairman Pijush Hazarika and Arunachal regional committee chairman Mama Natung, both committees finalised the border, based on the Namsai Declaration. The committees also decided that it was the final meeting on the settlement of the border issues between the two states.
During the meeting, the regional committee of Assam presented the proposed boundary between Biswanath (Assam) and Pakke-Kessang (Arunachal), which was prepared after a joint visit by officials and members of the committees from both sides.
The committees also agreed that "the area within the mandate of the Namsai Declaration, which is Baliso, Passo, Dikalmukh, and Dipik of Arunachal Pradesh, is settled and agreed upon by both regional committees."
However, the Pakke-Kessang regional committee apprised the members of the realignment of the border areas in Seijosa, including the inhabited areas in the Pakke tiger reserve forest guesthouse, the Seijosa ILP check gate, Monai village, and Namorah village.
In response, the regional committee of Assam suggested that "the boundary realignment of Seijosa to Namorah is beyond the mandate of the Namsai Declaration and therefore beyond the purview of the regional committees' discussion."
The regional committee of Assam also declined the suggestion to consider the mutually agreed upon boundary in Dikalmukh area, instead of the present boundary, stating that "the area is uninhabited and is an existing animal corridor."
Among others, Sonitpur DC D Mishra, Land Records Director Shantanu Gotmare and DFO Arun Vighnesh from Assam, and Pakke-Kessang MLA Biyuram Wahge, DC Tayek Pado, DFO VK Jawal and Dissing Passo CO Bomgam Padu from Arunachal attended the meeting.