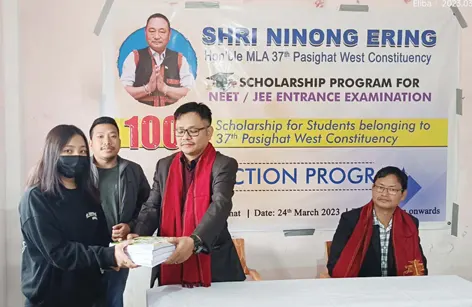 Correspondent
PASIGHAT, 25 Mar: A 40-day free crash course (advanced coaching) for medical and engineering entrance examinations NEET and JEE, sponsored by Pasighat West MLA Ninong Ering, was launched here in East Siang district on Friday to help the students crack the examinations.
Senior Medical Officer Dr Ojong Padung advised the selected students to work hard to achieve success, while Dr Donyi Ratan spoke on the importance of creating a study schedule and sticking to it to complete the course on time.
Programme coordinator Enuk Libang informed that 36 students have been selected for the course "on merit basis." They will be provided with scholarship during the coaching period.
Libang, who is also the education secretary of the Adi Bane Kebang (ABK), further informed that a similar coaching programme was organised by the ABK's academic board, in collaboration with the science club of JN College here.
Fifty students from different parts of East Siang are attending the course, which commenced on Friday.