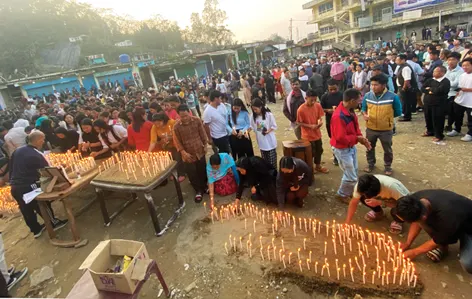 KHONSA 29 Mar: Thousands took part in a candlelight vigil jointly conducted by the All Tirap District Students Union (ATDSU) and Kaimai Welfare Youth Club at Khonsa Bazar Taxi stand here on Wednesday, to express solidarity with the bereaved family of late IRBN constable Wangniam Bosai who was killed in line of duty on 26 March last.
People from all walks of life joined the candlelight vigil and observed two minutes of silence as a mark of respect to the departed soul.
The business community also shut down their shops.
ATDSU president Jawang Bangsia appealed to the state government to compensate the bereaved family of the late constable with ex-gratia and to nab
the criminals at the earliest.
Bari-Basip ZPM Tediap Hallang on behalf of all ZPMs, appealed to the security forces to apprehend the murderer at the earliest. He further urged all to cooperate with the security forces to nab the culprits involved.
The candlelight vigil was also attended by KWYC president Tingwang Hosai, Khonsa ZPM Wanghong Panka, Khela-Bunting ZPM Tumwang Lowang, Dadam ZPM Jamwang Lowang, Bari-Basip ZPM Tediap Hllang, CBOs and others. (DIPRO)