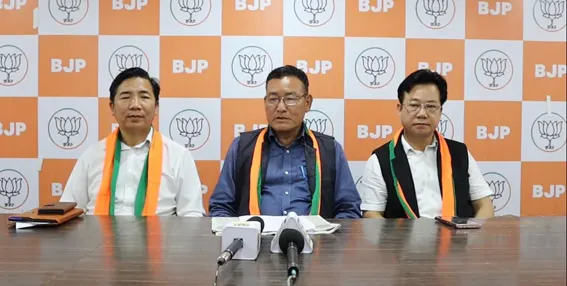 ITANAGAR, 24 May: The state Bharatiya Janata Party (BJP) has strongly rejected the allegation made by the Congress party on the Arunachal Pradesh Unlawful Activities (Prevention) Act and APPSC case.
State BJP spokesperson Techi Necha in a press conference held at the BJP state headquarters here on Wednesday said, "The BJP govt. led by Chief Minister Pema Khandu is trying every possible means to resolve the APPSC paper leakage case in the state. All the 13 points charter of demands placed by Pan Arunachal Joint Steering Committee (PAJSC) is almost resolved and the AAPSC case is also being investigated by the CBI."
The state BJP spokesperson further stated that Arunachal Pradesh Unlawful Activities (Prevention) Act, 2014 was created by the Congress govt. headed by the then Chief Minister Nabam  Tuki,  "to provide more effective prevention of certain unlawful activities of individuals and associations, and for dealing with terrorist activities, and for matters connected therewith."
"The BJP led govt. of Arunachal Pradesh is implementing the same through district administration as per the provision of the Act," Necha added.
Terming the 72 hours bandh call by civil societies "illegal and unconstitutional in the democratic country as declared by the Supreme Court of India," Necha stated that such calls infringe on the fundamental rights of others and have a detrimental effect on the peace and tranquility of society.
Necha further went on to appeal to the bandh callers to refrain from bandh calls and instead opt for debate, peaceful rally, dharna etc. saying that "the people-friendly govt headed by Chief Minister Pema Khandu is always open for discussion at anytime."