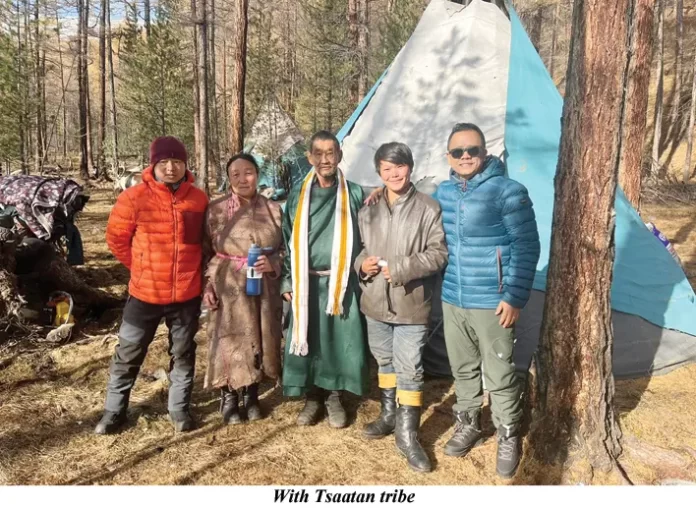 Monday Musing
[ Bengia Ajum ]
Since childhood, I had a burning desire to visit Mongolia, the world's largest landlocked country. Besides its enigmatic beauty, the fact that most of the tribals in the northeastern region trace their origin to the Mongol race made Mongolia a natural attraction for me. After a long wait, in the last week of September, my childhood dream to visit Mongolia was fulfilled. To add icing on the cake, my childhood friend and best travel companion Chukhu Mama, joined me on the trip.
There are no direct flights to Ulaanbaatar, the capital of Mongolia, from India. So, first we took a 5-and-a-half-hour flight to Hong Kong from Delhi. From Hong Kong, it was another 4-and-a-half-hour journey to Ulaanbaatar. As we stepped out of Chinggis Khaan International Airport, the temperature outside was -3°C, and it was literally freezing. I was deeply emotional when I left the airport. Our local guide was a young Mongolian named Bumbaiyya, who was raised in the USA but returned to his native country after feeling disillusioned with the American way of life. Immediately, Mama and I struck up a wonderful friendship with our guide and driver.
During the winter, most of the domestic airports in Mongolia are closed, so we mainly traveled by road. The next day, we hit the road towards northern Mongolia. After two days of a long road journey, we reached the Taiga region. This region shares a boundary with Russia's Siberian region and has similar vegetation. We stayed in a village, and the next day, we took a 4-hour-long horse ride to reach the Tsaatan reindeer tribe people. Immediately upon reaching the reindeer tribe camp, we were incredibly excited to see reindeer in real life for the first time. The following day, our host took us for a reindeer ride to the mountains. Riding reindeer in deep, snow-covered mountains was simply awesome and once-in-a-lifetime experience. Talking to the Tsaatan tribe people, we realized that we share some similarities with them. Our indigenous faith is quite similar to theirs. They still practice Shamanism. There are 16 tribes in Mongolia, and like us, they were mostly nature worshippers. Over the years, during various rules, some converted to Buddhism and others to Christianity. However, Tsaatan, whose numbers are only 800, still follows Shamanism in its purest form.
In addition to visiting the Taiga region, Mama and I explored central Mongolia, including the capital Ulaanbaatar, and visited the famous sand dunes leading to the Gobi desert. Visiting the statue of Chinggis Khaan, the legendary Mongol ruler, was another highlight of the visit. He is a very popular figure. Right from the airport to even vodka, everything has been named after Chinggis Khaan.
Many of my friends have been asking whether there are any similarities between us and Mongol people since we trace our origin to that country. I would say the answer is both yes and no. It is yes because those who follow Tibetan Buddhism in the state definitely have similarities with Mongolian people. Apart from the Buddhist connection, there are striking similarities in culture, tradition, clothing, and even the way of life of some Mongol tribes with Arunachalee tribes like Monpa. I can't say the same about the other tribes. Where I could relate to some Mongol tribes, is our common belief in nature worship. There is much similarity between our indigenous faith and the Shamanistic beliefs of some Mongol tribes.
Another striking similarity is the secular nature of Mongol people and the people of Arunachal. Muslims, Buddhists, Christians and Shamanism followers live peacefully without any problems. "We give respect and space to each other. There is absolutely no issue," said my local Mongol friend Otgon, who hosted us. Interestingly, a large portion of the population is non-religious and does not follow any religion.
As we left the country, I wished I had more time and resources to explore enigmatic Mongolia.