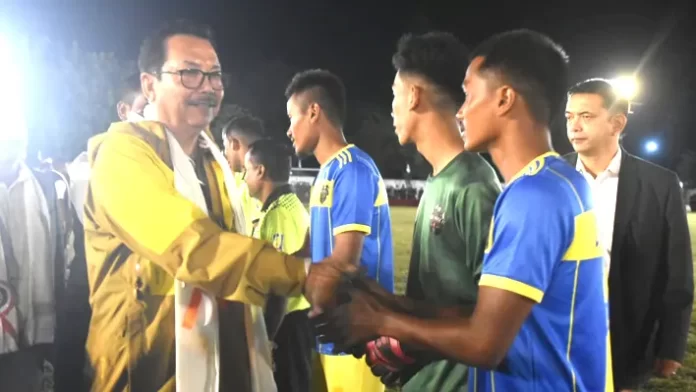 MAHADEVPUR, 19 Nov: Deputy Chief Minister (DCM) Chowna Mein inaugurated the 15th edition of the Bodousa Cup, a national-level invitational football tournament, amidst fervor and enthusiasm here in Namsai on Saturday evening.
The Bodousa Cup, organized by the Bodousa Sports Club, stands as a testament to the commitment to nurture and promote football in the region.
Expressing immense pride, DCM Chowna Mein extolled the significance of hosting such a distinguished national-level tournament within the boundaries of Arunachal Pradesh. Mein spoke about the growing popularity of football in the region and emphasized the wealth of sporting talent, exemplified by players like Yash Chikro from Lohit district, who represents India under-19.
During his speech, Mein highlighted the deep-rooted mutual respect and brotherhood between the denizens of Assam and Arunachal Pradesh. He stressed the pivotal role of events like the Bodousa Cup in not only nurturing the youth of Arunachal but also in fostering unity and progress across the entire Northeast region.
Mein also spoke on Arunachal's recent success at the National Games, securing a commendable tally of 16 medals, a moment of immense pride for the state.
In his address, Mein shed light on initiatives that encourage the youth, citing the commendable example of the Achievers Award by Pratidin Times, aimed at recognizing and celebrating the accomplishments of young achievers. He further disclosed the state government's plans to felicitate and encourage young achievers, amplifying their efforts in diverse fields. Mein also emphasized the importance of embracing the cultural diversity and historical richness prevalent in the Northeast, advocating for greater intercultural exchange and understanding among its communities.
Commending the efforts of Assam Chief Minister Himanta Biswa Sarma, Mein acknowledged his pivotal role in nurturing harmony and coordination among the diverse communities in the Northeast.
Honoring the legacy of historical figure Moran Bodousa of Upper Assam, the tournament serves as a significant platform for budding talents to exhibit their football prowess and skills.
The inaugural ceremony witnessed the presence of Lekang MLA Jummum Ete Deori, Bodousa Sports Club president Arunjyoti Moran, district BJP president Chau Sujana Namchoom, Namsai DC C.R. Khampa and SP Sangey Thinley.