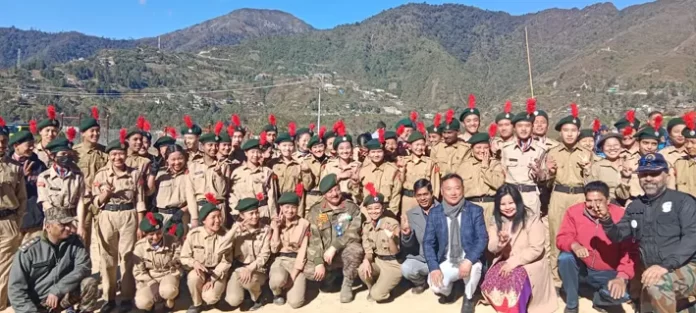 [ Prem Chetry ]
BOMDILA, 19 Nov:  In celebration of the 75th anniversary of the National Cadet Corps (NCC), the NCC cell at Government College, Bomdila organized a youth exchange program on Sunday. This initiative is a special segment of the North East Region Car Rally, a special outreach endeavor organized by the NCC Directorate North East Region.
The car rally serves as a platform to instill camaraderie, leadership, sportsmanship, and the spirit of adventure among the youth, aiming to imbue them with the values that define the essence of the NCC.
Commencing its journey from Shillong on 6 November, the rally is set to culminate in Guwahati on 26 November. Maruti Suzuki, as the sponsor, has provided Maruti Jimnys and Maruti Grand Vitara SUVs for the event. An impressive participation of 277 schools, 151 colleges and 44 districts across 6 states has been noted in this grand car rally.
Government College, Bomdila principal Dr. Tashi Phuntso commended the efforts of the NCC cell, stating that, "participation in the NCC enables students to gain substantial exposure. It instills a sense of discipline, adventure, and patriotism among the youth through these extensive outreach initiatives."
NCC North East Region Directorate ADG major general Gagan Deep encouraged students, emphasizing the importance of responsibility in fulfilling their duties as cadets and as students of the institution. "Institutions should foster holistic education, stimulating and challenging students to grow academically and personally," he added, acknowledging the proactive role of the NCC cell within the college.
The event witnessed the presence of brigadier S.S Gill, group commander Tezpur hq, commanding officers, the managing director of Maruti Suzuki and other dignitaries, alongside college faculty and 300 students.