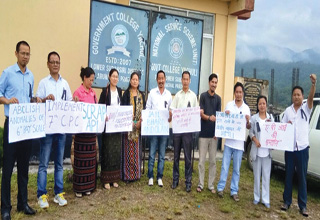 ITANAGAR, Sep 5: While most educational institutes observed Teacher's Day throughout the state and country on Tuesday, 17 government colleges under the banner of the Arunachal Pradesh College Teachers' Association (APCTA) observed 'Protest Day' in solidarity with the 'Court Arrest Programme' of the All India Federation of University and College Teachers' Organization (AIFUCTO) held at Jantar Mantar, New Delhi.
The Court Arrest Programme of AIFUCTO was also observed by all university and college teachers of India.
Government colleges of Arunachal Pradesh reportedly observed the protest in their respective colleges by boycotting the Teachers' Day celebration on September 5 and performed their duties by wearing black badges.
They also staged dharnas in front of their respective colleges using banners and placards as a mark of protest.
This is the fifth nation-wide democratic movements launched by the AIFUCTO and the Federation of Central University Teachers' Association (FEDCUTA) for fulfilment of various demands, but the central government is reportedly reluctant to discuss the problems of the teachers.
In a release, the APCTA said that it fully endorses all future course of action to be taken up by the AIFUCTO and FEDCUTA in the coming days.
It also appealed to the national organizations to give a call for an all India strike to save higher education, fundamental rights and service conditions of the college and university teachers of the country.
The 11-point demand of the teachers include publishing the report and implementing the 7th UGC Pay Revision Recommendations after consultation with AIFUCTO and other teachers' body; 100 per cent financial assistance for uniform and simultaneous implementation of 7th pay scale; pay scales and service conditions for temporary, adhoc, part time, guest teachers, block grant teachers and self-financing teachers and employees; scraping API and extend dates of RC/OC; rejecting the pension scheme 2004 and pension for all teachers; abolish anomalies of 6th pay scale; stop in budget cut of education, with increase of up to six per cent GDP, besides other demands for the benefit of teachers.