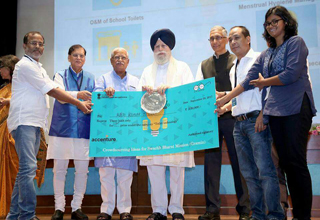 ITANAGAR, Sep 10: Arunachal Pradesh has received yet another milestone in its efforts to find a solution to some of the sanitation and hygiene challenges in the state as the 'Bamboo Toilet Technology in Difficult Terrain' conceived by a PHE Junior Engineer topped the list of innovators in a national level open competition and bagged the Swachh Bharat Hackathon Award.
The innovative sanitation project, which was conceived by Yupia PHE Division JE, Ram Prakash Tiwari was nominated by the state government and was one of the 3,053 entries from across the country for the Swachhathon 1.0 competitive event.
The Award consists of Rs 3 lakh, a plaque and a certificate, which was presented by the Ministers of State for Drinking Water and Sanitation, SS Ahluwalia and Ramesh Chandappa Jigajinagi in presence of the Secretary, Ministry of Drinking Water and Sanitation, Parameswaran Iyer in the Swachhath on 1.0, the first ever Swachh Bharat Hackathon, organized by the Union Ministry of Drinking Water and Sanitation at New Delhi on September 8.
Tiwari, however, has donated the cash award for the cause of Swachh Bharat Mission (Gramin) in the state.
The technology was all about using locally available materials, mostly matured bamboos covered with plastics for use in the twin pit latrines as a suitable alternative to bricks.
The cost effective and sustainable solution was built on pilot-basis by a beneficiary, Tana Teshi of Midpu in Lekha Panchayat, under the direct supervision and technical guidance of a team of Yupia PHE division headed by Tiwari.
The bamboo technology is to be adopted in the state for achieving Open Defecation Free by December 2017.