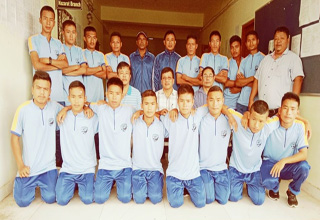 ITANAGAR, Sep 12: State champion Government Higher Secondary School, Daporijo will represent Arunachal Pradesh in the 58th International Subroto Mukerjee Cup Football Tournament (Boys U-17) in New Delhi.
The school from the state has been placed in group "G" and will play their first match against Manipur at Ambedkar Stadium on September 16.
They will play their second match against Uttar Pradesh on September 17 and third match against AFBBS the next day before taking on Army Boys on September 19.
The team has left here for New Delhi on Tuesday.
Director of Secondary Education Gania Leij and other officials of the directorate while flagging of the team wished all the best for the tournament.
P Devid Singh and M Mondal are the Manager and Coach of the team.
The team: Posok Gumja, Kato Nayam, Taje Gumja, Pania Rebi (Team Captain), Sapa Rago, Tapu Soki, Rajesh Mara, Kulin Raji, Rakesh Bayor, Karan Hina, Tamin Sikom, Raje Mara, Tania Nibe, Tato Tarba, Rakash Dubi and Tumbosh Dubi.