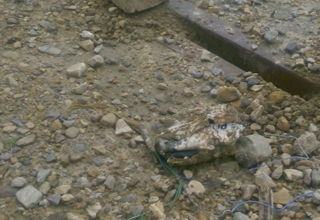 Correspondent
PASIGHAT, Sep 25: An Improvised Explosive Device (IED) was found planted at an RCC Bridge on Korang-Lipin Road in East Siang district near the newly constructed CO Office, Korang on September 22.
The IED was later defused by the Bomb Disposal Squad.
It is reported that on September 21 at around 5 PM, Circle Officer-cum-Executive Magistrate, Ocean Gao and Deputy Commandant, CRPF 186 Bn Vasudev had inspected the newly constructed CO office building and had instructed the PWD labourers to clean up the office building for accommodating three companies of CRPF when the IED was found.
According to CO Gao and officials from Sigar Military base, the IED was run by an analogue timer mechanism and had the effective range and danger covering about 100 mtr radius.
This is the second time that explosives have been found in the district. A hand grenade was found on September 11 by the Pasighat unit police.
East Siang SP, Pranav Tayal said that no further arrests could be made yet but one Bij Gogoi, arrested in connection with the hand Grenade case is still under police custody.
Meanwhile, the Adi Baane Kebang (ABK) in a statement has categorically termed the recovery of IED unfortunate and strongly demanded that the person(s) responsible should be identified at the earliest and be punished.
Condemning the incident in the strongest term, ABK President Kangir Jamoh said that the incident is shocking and disturbing. He also demanded stringent punishment for those found responsible.