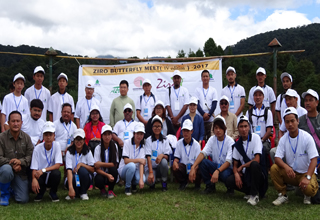 Ziro, Sep 25: More than 70 species of butterflies were recorded, including rediscovery of Giant Hopper (Aposticopterus fuliginosus) during the 4th Ziro Butterfly Meet, which concluded at Pange, Talle Wildlife Sanctuary on Monday.
The Giant Hopper is so far known only from China, Nagaland and Manipur. The said species is reported to be very rare and so far there has been no live photograph before.
The species was sighted on September 22 at Pange Camp at an elevation of 1849 mtr by Punyo Chada, Monsoon Jyoti Gogoi and Nawang G Bhutia.
Other significant species recorded by participants were Bhutan Glory, Brown Gorgon, Manipur Junglequeen, Scarce Blue Oakleaf, Yellow Owl, and the moth mimicking Bhutan Glory, Apatani Glory.
The meet was exclusively for the local students, college goers and youths said, Punyo Chada, Hibu Tatu and Koj Mama, members of Ngunu Ziro.
Nawang G Bhutia was facilitated by Ngunu Ziro for entering Limca Book of Records for India on August 21, 2017 for attracting maximum butterfly species to sit on his fingers.
As many as 40 participants from colleges and schools of Lower Subansiri district, including Yazali, Ziro Biodiversity Management Committee and Apatani Students Union attended the meet.
The meet was organized by Ngunu Ziro, in collaboration with the Department of Forest and Environment, Department of Tourism, Butterflies of NE India group, ATREE, BAMOS Nature Conservation Society.
Lower Subansiri Deputy Commissioner Kemo Lollen and DFO of Hapoli Division Koj Rinya also participated in the meet.
Yazali has been chosen as the venue for the 5th Ziro Butterfly Meet in 2018.