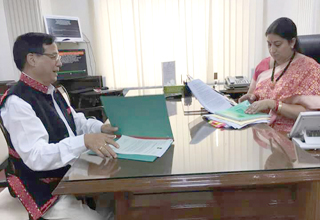 NEW DELHI, Sep 27: Union Minister for Textile and Handicrafts Smriti Irani assured to give her support to the Arunachal Pradesh Government's endeavours in improving the state's textile industry.
This was informed when state Minister for Power, Industries, Textile and Handicrafts, Tamiyo Taga called on the Union Minister on Wednesday at the Shastri Bhavan in New Delhi to inform her about the textile industry development programmes in the state and on various schemes initiated by the government.
Noting that the Northeast states of India possess potential in the textile and handicraft industry, the Union Minister also urged Taga to implement and utilise the allocated funds and schemes for the betterment of the public as the industry can bring both economic and social changes in the society.