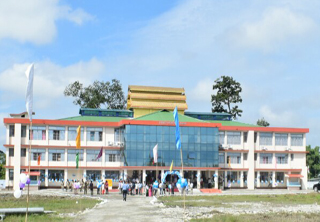 NAMSAI, Sep 30: 'The Chakma-Hajong issue is like a cancer, the more we delay, the more it will prove dangerous for us in the future', said Chief Minister Pema Khandu while addressing a huge gathering after inaugurating the District Secretariat building at Namsai on Thursday last.
Pema said that the government is determined to solve the problems of the people.
'We have a team, which is dedicated and determined to solve the issue and work for the people. All we need is your cooperation,' he added.
Recalling the contributions of earlier governments and former legislator of the area for the district secretariat building, the Chief Minister said many new districts were created in recent years, but Namsai is the first to see the completion of its secretariat building.
He further highlighted the potentials in the area of agriculture, horticulture and tourism, including the progressive mindset of the people there and said the future economy of Arunachal would be led by people of eastern belt.
'In this endeavour, the government is also focused so as to enable development to reach all corners of the state and not only centred at the state capital', said the Chief Minister.
He also informed that Deputy Commissioners across the state have been assigned roles with greater powers in finalizing schemes and on other programmes.
Earlier, Deputy Chief Minister, Chowna Mein informed that with the inauguration of the District Secretariat building, the office of Deputy Commissioner will function from the new building and at the same time, Divisional Commissioner East will also start functioning from Namsai.
Also present on the occasion were parliamentary secretaries C T Mein, Phosum Khimhun, P D Sona, Likha Saaya and Chow Zingnu Namchoom, Speaker T N Thongdok, state BJP President Tapir Gao, ministers Kamlung Mosang and Alo Libang.