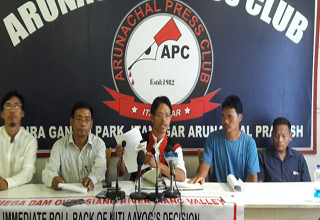 Staff Reporter
ITANAGAR, Oct 4: The Siang Indigenous Farmer's Forum (SIFF) on Wednesday sent out a clear message to the state government and NITI Aayog that the people of the Siang belt are against the proposed 10, 000 MW hydro power project on the Siang River and would not tolerate any negotiations on it.
Addressing reporters at the Press Club here, the Forum placed forward a month-long ultimatum to the state government and NITI Aayog to roll back the decision, and warned of heavy law and order problem if they decide to go ahead with the mega dam construction over the Siang River.
Saying that it had opposed the mega dams earlier as well, following which the Nabam Tuki led Government had written to then Union Water Resource Minister Uma Bharati on 11 June, 2015 to drop the construction of existing two hydro power projects on the Siang River, the SIFF questioned the incumbent Pema Khandu-led Government on why it picked up the mega dam construction again.
However, the Forum said that it did not receive any official statement from the Central Water Resource Department which said that the project was dropped in toto.
Claiming that no Cabinet member, MLA, hydro power developer, or NITI Aayog representative came to the Siang valley to discuss on the purported dangerous mega dam, SIFF General Secretary Tasik Pangkam said that none of the stakeholders were taken into confidence regarding its construction and nor were any public hearings held.
Also citing dangers of constructing a mega dam, such as Arunachal being in a high seismic zone and probable demographic changes to the Siang belt, Pangkam cited instances of how recently the Ranganadi Dam caused heavy floods in Assam.
He opined that the 10, 000 MW dam over the mighty Siang would also displace the indigenous tribes settled in the Siang belt, just as the Kaptai Dam did to the Chakmas and Hajongs in Bangladesh.
"This will result in a Chakma-Hajong like situation and we will end up landless like them", said Pangkam.
Saying that the people were not against smaller hydel projects, some of which are already generating power, the Forum maintained that it would continue to oppose mega dams, which would not only affect the people in Arunachal, but also affect neighbouring states like Assam.
"Development should not be at the cost of the extinction of the people", it said, and reiterated that it would resort to a democratic movement in a month's time if the decision is not rolled back.
Earlier on September 26, the NITI Aayog proposed a multipurpose river valley project estimated to be a 300 metre dam with power generation capacity of 10,000 MW.
The project is proposed at Siang Stage-II location, which will be built as a single storage project instead of earlier proposed two separate projects Stage-I and Stage-II on Siang River.