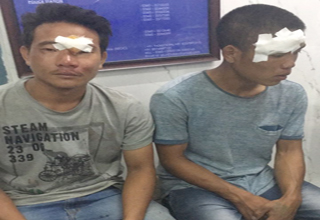 ITANAGAR, Oct 4: The official vehicle (Mahindra Bolero) of the 3rd IRBn Commandant, with registration number AR 01D 0128, knocked down a motorcyclist along with his pillion rider near Rama Krishna Mission Hospital at around 9 PM on Wednesday.
The injured, identified as Ravi Sangno and Tamu Yangfo were heading towards Vivek Vihar when the speeding Bolero hit them from behind and knocked them down.
Sangno and Yangfo, who sustained injuries, were rushed to Rama Krishna Hospital and are currently under observation.
The driver of the vehicle has been identified as M Ansari, who has been detained at the Itanagar Police Station. The car has also been taken into custody and an FIR has been lodged in this connection.