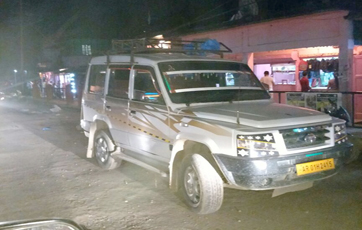 [ Amar Sangno ]
ITANAGAR, Oct 12: Arunachal Pradesh State Transport Service's (APSTS) Tata Sumo service plying between Itanagar and Seijosa in East Kameng was reportedly forced to discontinue after the private Tata Sumo operators of Seijosa threatened to burn it. The Private Sumo Operators are upset at the cheaper fares introduced by the APSTS sumo services.
The development came to light after the APSTS driver Vinod Chettry stopped plying to Seijosa. When enquired by the authority, the driver reportedly informed that the private operators had threatened to burn APSTS sumo alleging him of luring the passengers with cheaper fares. The APSTS Tata Sumo service charges Rs 280 which is slightly cheaper than private service which charges Rs 350/ from Seijosa to Itanagar.
It is reported that most private Tata Sumo service operators are government employees including a police personnel and Panchayat Members.
Considering the communication bottleneck, the APSTS had introduced Tata Sumo service between Seijosa and Itanagar in early July 2017 with subsidised fare of Rs 280 for per passenger.
Speaking to The Arunachal Times, APSTS driver Vinod Chettry claimed that private Tata Sumo Operators summoned him at their meeting on Monday and threatened to burn down the sumo if he continues to ply. Fearing for safety, Vinod discontinued plying on route and reported the matter to Station Superintendent, Seppa.
Taking serious note of the issue, the Station Superintendent Tagok Sorang has written a letter to Additional Deputy Commissioner, Seijosa informing him about the development and sought action against the culprits.
Till the filling of this report, the ADC Seijosa said he is unaware of such a development. However, he asserted that he would investigate the matter.
Meanwhile, none of the private Tata Sumo operator could be reached by this daily for their reaction.