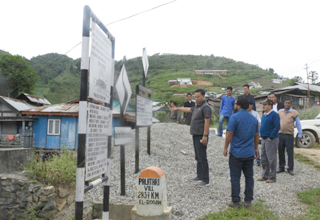 BHALUKPONG, Oct 22: Thrizino-Buragoan MLA and Parliamentary Secretary Kumsi Sidisow recently visited Thrizino ADC Circle Headquarters to take stock of various ongoing projects undertaken by the state government.
Sidisow, accompanied by the departmental officials and Panchayat leaders visited and inspected the Khadbey Hydel Power Project at Sakrin, Public Health Centre (PHC), Government Secondary School, newly announced police station, water reservoir, Nyetriidow festival celebration ground and Khuppi Model Village in Thrizino circle.
He also interacted with the public and PRI members at Thrizino and discussed various issues of the area and sought their support in completion of the various ongoing projects in the area.