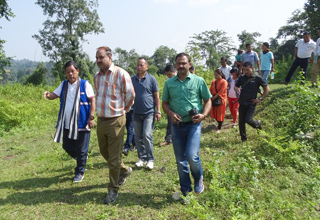 KIMIN, Oct 27: The Member Secretary cum Scientist, SSTP Division, Directorate of Science & Technology, Govt of India, Ravinder Gaur on Friday visited Kimin to take stock of the area earmarked for establishment of Rural Technology Centre (RTC) and Centre for Bio Resource and Sustainable Development of Bio-Technology (CBSD).
"RTC is being set up to demonstrate the cost effective rural technologies, impart vocational and hands on trainings for skill development of rural areas. It will provide market linkage to the rural entrepreneurs which will help in the social and economic upliftment of the rural population," said Gaur.
He further said that CBSD is being set up with the objective of sustainably utilizing the immense bio resources of the state and creation of state of art facilities for supporting biotechnology research in the state.
He said that proposal and DPR need supporting documents with proper facts and figures. Further, he directed the official of the Directorate of Science & Technology to immediately provide the full proof DPR to the ministry for immediate approval.
Arunachal Pradesh State Council for Science & Technology (APSCS&T) Chairman Bamang Mangha shared that the two important projects whose foundation stone was laid by the Union Minister Dr Harsh Vardhan on 22nd December 2016 at Kimin is yet to get clearance from the centre and requested the visiting official to immediately pursue the matter in the Ministry.