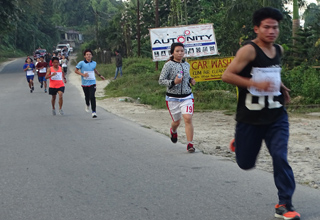 NAHARLAGUN, Nov 12: In the run up to the 2ndDoimukh festival Papum Pare SP and In-charge Capital Complex Tumme Amo has flagged off a 10-KM mini marathon race here on Saturday.
More than hundred persons including 51-year-old Dr. Kago Gambo and 9-year-old student from VKV, Itanagar, Kago Mobin took part in the marathon.
In boy's category, Karbu Kena, Tarh Tame, Sunora Tawe, Hillang Kana and Koj OPo stood 1st, 2nd, 3rd, 4th and 5th respectively.
In girl's category, Nabam Boni, Likha Rinia, TabaYarang, Teshi Jirnia and Chukhu Yasap secured 1st, 2nd, 3rd, 4th and 5th position respectfully. The winners will be given away prizes on the concluding day of the festival which will be celebrated at Tana Hari fish farm campus at Doimukh from Nov 25.
Earlier, addressing the participants at the Government Higher Secondary School football ground, Kankar Nallah, Amo called upon the youths to shoulder responsibility for nation building.
Pointing out the increasing number of death cases due road accidents, he appealed to the youth in particular and common public in general to abide by the traffic rules. "Use helmet, avoid drunken driving and mobile phone while driving a vehicle, he said. He also asked the youth to keep away from the bad habit and drug use for good health.
The festival is being organised by the Doimukh Festival Committee to promote communal harmony and brotherhood among all tribes.